Warning
: count(): Parameter must be an array or an object that implements Countable in
/home/moretoli/public_html/PODIATRYAPPS.COm/wp-content/plugins/flybx/app/models/templates.php
on line
295
Warning
: count(): Parameter must be an array or an object that implements Countable in
/home/moretoli/public_html/PODIATRYAPPS.COm/wp-content/plugins/flybx/app/models/templates.php
on line
315
Diabetic Foot Care App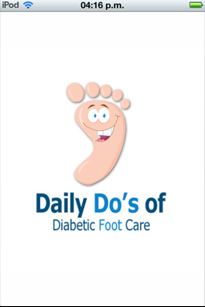 What is it?
$0.99
Complications of the foot in those with diabetes is a significant problem for the health service and the individual. Self-care is extremely important to prevent problems from happening, so anything to facilitate this is going to be worth it.
You have been told countless times that your feet are at risk of developing infections and ulcers and you have to check them daily. Well, " The Daily Do's of Diabetic Foot Care" App will assist you in doing exactly that.

Your daily walks are important , to that end our multi-disciplinary medical team designed this instructional application so that you can continue doing this activity as long as possible.
Is it worth it?
Yes
Rating: 5 star
Resources on the Diabetic Foot:
http://www.epodiatry.com/diabetic-foot.htm
http://www.podiatryexperts.net/question/178/Why-do-diabetics-have-so-many-foot-problems
http://www.diabetic-foot.com.au/
http://www.diabetestextbook.com/
http://www.diabetesbooksshop.com/
http://www.forestfirediabeticfoot.com/